FULL SERVICE
Ledigajobb.se
Ledigajobb.se is one of Sweden's largest job search platforms. The site offers job seekers a comprehensive overview of all available jobs advertised online. Ledigajobb.se aims to simplify the job market for both employers and job seekers by providing a centralized location for job-related opportunities.
With its innovative solutions for both job seekers and companies, Ledigajobb.se is a clear first choice for many. Every week, several hundred thousand job seekers visit Ledigajobb.se to find their dream job.
Visit Ledigajobb.se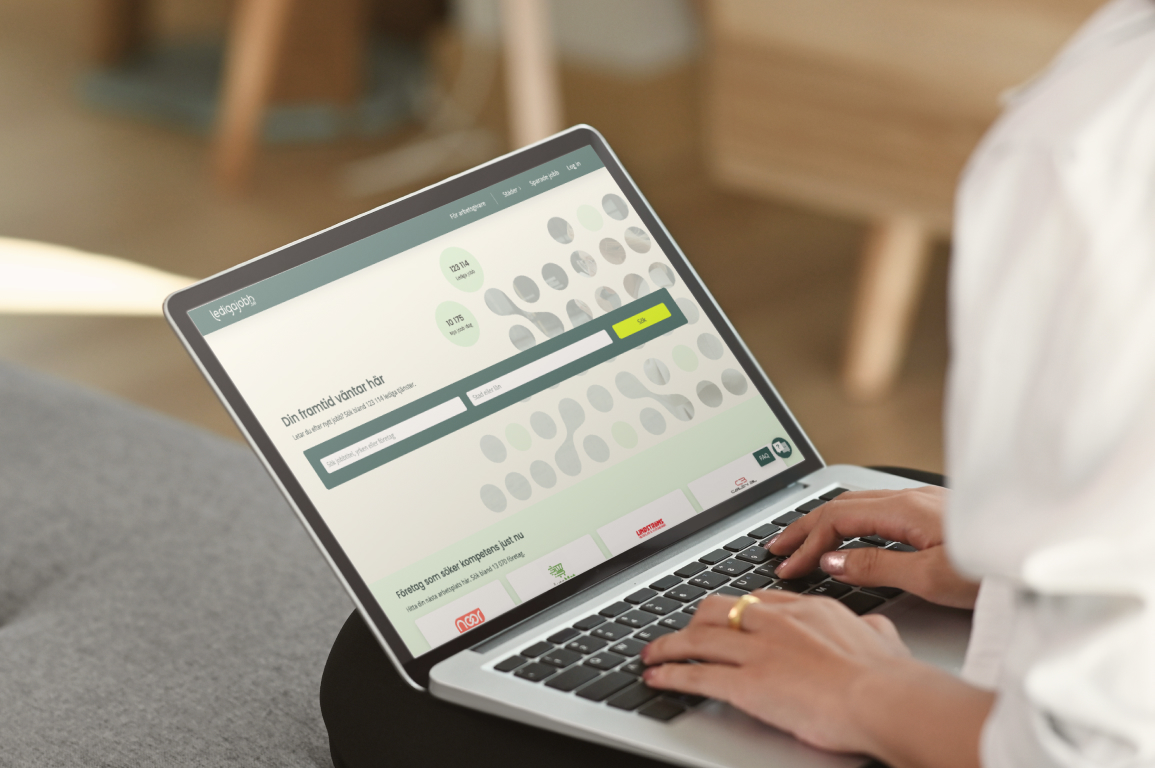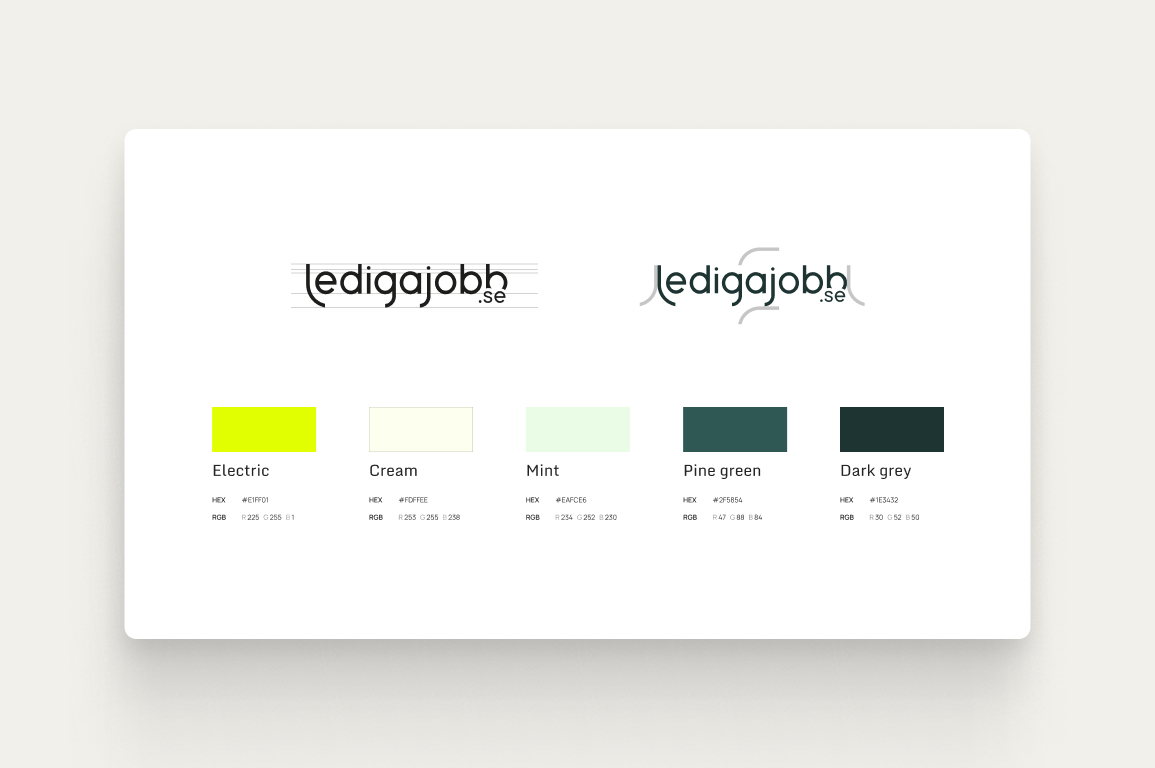 Refreshing rebrand
Acknowledging the need for a brand update, we conducted a workshop with the client's key stakeholders. Together, we laid a strong foundation to build upon.
Ledigajobb.se believed their previous branding was outdated and wanted a vibrant, trustworthy image that reflects their forward-thinking vision. We achieved this with a minimalist design featuring dark green, accented with lively yellow and fresh light green, conveying modernity and trust. The logo, with its rounded shapes, offers a warm feel, and its design emphasizes the connection between job seekers and companies.
Improved user experience
Our collaboration extended to in-depth user research and analytics, culminating in a user flow that alleviates the common job-search anxiety. The goal has also been to reach those users who are actually unhappy in their current job but do not have the time or energy to initiate the process of seeking a new one.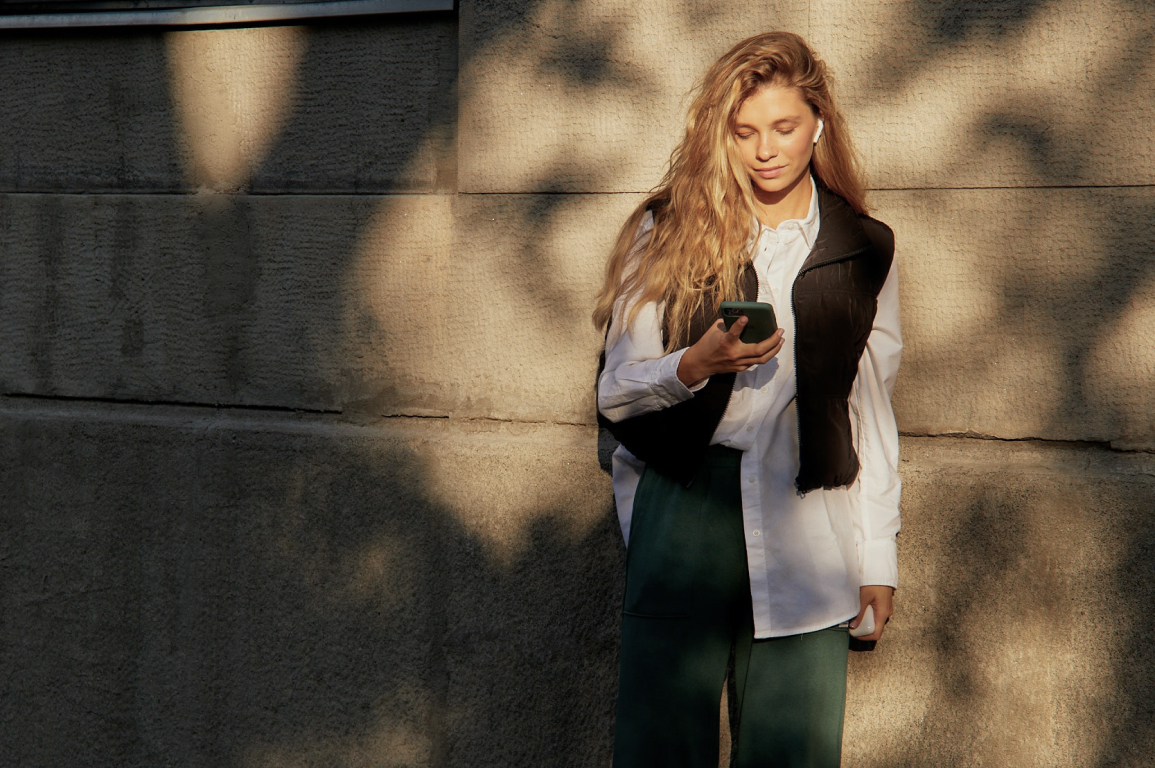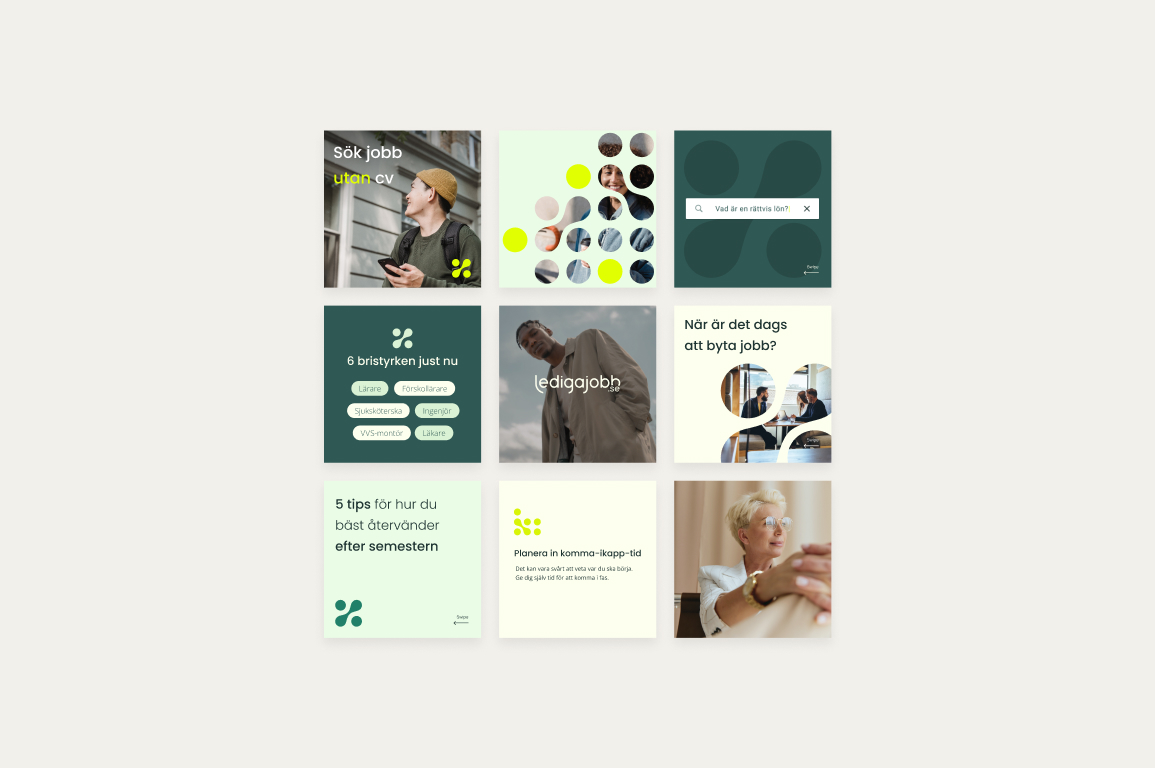 Target audience defined
To boost user registrations on the updated website, we conducted in-depth research on their target audience. This enabled us to tailor the campaigns on social media and make the targeting more effective, as we developed compelling advertising content and revitalized their social media presence with organic posts.
We also set up Programmatic and display ads, to retarget site visitors, and find the target group searching for similar services through Google.
Result
The result is a revamped Ledigajobb.se that mirrors their brand identity through a modern, user-friendly, and intuitive design. Features like auto-tagging job ads and CV-free application processes have made job searching significantly more accessible. With the help of a robust knowledge base, users now have a comprehensive toolkit to land their dream job.
Our partnership with Ledigajobb.se continues, as we work to evolve the platform while managing all aspects of advertising and organic search, setting the stage for even greater milestones.